Petition to Save Health Reform – Expand Medicare for All!
Health reform must assure affordable, universal coverage.  That means relying on a publicly-financed plan like Medicare.
EQUAL delivered a petition to Save Health Care with 1,200 signatures and stories to the White House regional health reform forums in California on April 6. Thanks to those who signed!
Lenny Potash presented the petition to White House Domestic Policy Advisor Melody Barnes in Los Angeles (see below), and Roma Guy delivered it to HHS Administrator Emory Lee.
Click here to download Petition and Comments
EQUAL Petition Delivered to White House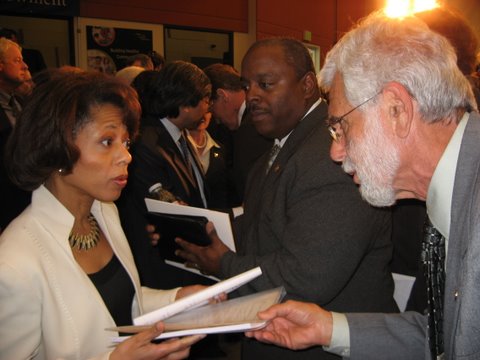 Lenny Potash presents EQUAL Petition to Melody Barnes, White House Domestic Policy Advisor
Click here to download Summary of Comments
Support our work with a secure online tax-deductible donation:
Health Reform Agenda for the Next 100 Days!
PUBLIC HEALTH TESTIMONY AND CONGRESSIONAL VISITS TO SUPPORT:
Enact universal coverage for quality, affordable, publicly accountable health care
Advocate for single payer: State option.  Testimony. Vote in Congress
Improve and expand publicly-financed, publicly administered health programs
Medicare to cover under 25, over 50
Strong public plan option: Vote by majority in Congress
Improve population health
Address women's health concerns
Click here to download Next 100 Days flyer
Momentum For Reform: Why This Time is Different
Ellen R. Shaffer and Joe Brenner
>   Jan.20, 2009
Let's be clear.  Refusing to cover health care for a quarter of our people is barbaric.  That doesn't mean it will be easy to slay this particular dragon.  But this looks like the year that we can build the momentum to do it….Beginning with the historic inauguration, we need to start a down payment on reform in the First 100 Days to save our existing public sector social health insurance programs, and expand them to everyone.  We need to direct federal stimulus funds to the socially useful purpose of expanding health care coverage.  We need to get used to saying "social" in public.
Click here for More on Momentum for Reform
The First 100 Days Health Agenda – and beyond – would expand coverage now, protect public health care programs and rein in the private insurance industry. Tell us what you think:
Developed by Reklindling Reform and the Center for Policy Analysis.
A First 100 Days Health Agenda
We ask Congress and President to act in the First 100 Days to expand health care and improve the public's health: [1]
Extend and expand health coverage and access.
Children – Expand SCHIP to cover ages 0 – 25
Medicare – Extend coverage and access:
Lower the eligibility age to 50.
Eliminate the 24-month wait for Medicare benefits for persons with qualifying disabilities.
Medicaid – Increase enrollment and access:
Increase the federal match in Medicaid funding and minimize cost shifting to patients.
End the categorical nature of Medicaid eligibility and extend eligibility to everyone living in poverty, and to all recipients of unemployment compensation.
Simplify the documentation and application requirements.
Increase transparency of the state waiver process that is eroding federal standards for Medicaid.
Safety-net institutions: Increase funding for public hospitals, and for community and migrant health centers.
Halt erosion of traditional, public Medicare.
Stop the excess payments to Medicare Advantage plans. (In President's Budget)
Cancel the 2010 Medicare Comparative Cost Adjustment demonstration. (Speaker Pelosi deferred for 2 years.)
Eliminate the arbitrary 45% cap on general revenue funding for Medicare. (The House refuses to implement it.).
Eliminate means-tested (income-based) premiums for Medicare Part B.
Improve access to affordable medicines.
Create a public prescription drug benefit within traditional Medicare, requiring CMS to negotiate drug prices.
Allow re-importation of prescription drugs. (In President's budget)
Policy and Program Initiatives for the First Year
Ensure health justice for veterans
Eliminate the barriers (financial, administrative and gender) to timely health care for veterans.
Improve the health of the nation
Take steps now to link action across government sectors (employment, housing, education, environment, commerce and trade, health) to address the social and economic conditions and policies that make people sick and produce health inequities: economic deprivation, discrimination, and adverse conditions at work, in the environment, and in the neighborhood.[3] Make improving health and reducing health inequities a criterion for all government initiatives.
Build a basis for effective, efficient financing and delivery of health care
Speed up the development of an adequate primary care workforce.
Investigate the effectiveness, efficiency, and discriminatory practices in the health insurance industry.
Compare effectiveness of medical treatments and implement best practices. (In Recovery Act )
Propose adequate, stable Medicare financing with cost-growth containment to ensure Medicare's continued ability to meet beneficiary needs without being burdensome financially.
Enact universal coverage for quality, affordable, publicly accountable health care.
[1] Our nation's hard-won commitment to parity for mental health coverage must be implemented throughout.
[2] The Child Health and Medicare Protection Act of 2007 was passed by an overwhelming majority in the House of Representatives, August 1, 2007. Not considered by the Senate. Supported by then Senator Obama.
[3] See report of the World Health Organization's Commission on the Social Determinants of Health:
http://www.who.int/social_determinants/final_report/en/index.html
Click here to download First 100 Days Agenda
Preamble to a First 100 Days Health Agenda
The First 100 Days Health Agenda is offered as a platform for unified action by organizations working to achieve quality, affordable and accessible health care for all Americans, and to improve the nation's health. It frames immediate steps that respond to the deepening economic crisis, shore up and expand existing public programs, and improve health.
(Read the whole Preamble by clicking below)
Click here for the Preamble
Tell us what you think: ershaffer@centerforpolicyanalysis.org
An Appeal to Congress and the President: Save Medicare
Alliance to Restore Medicare
This appeal lists six vital steps for preserving Medicare as the successful program that brought health care to older and disabled people and for safeguarding its political viability as an essential element of the foundation for universal coverage.  To join the Center for Policy Analysis and others in supporting the ARM, go to: http://www.alliancetorestoremedicare.org./join_form.htm