Center Co-Director Ellen Shaffer's Power Point presentation on health reform, with preliminary analysis of HR 3962, points out advantages of enacting reform.
Click here for Shaffer Power Point
HR 3962 Introduced October 29, 2009
http://docs.house.gov/rules/health/111_ahcaa.pdf
Summaries:
http://edlabor.house.gov/blog/2009/10/affordable-health-care.shtml
Additional Information:
Complete Bill Text »
Top Line Changes »
4-Page Bill Summary »
10-Page Bill Summary »
Section by Section »
Top 10 Changes to the Health Insurance Reform Bill »
Myth Vs. Fact »
Health Care by the Numbers »
Implementation Timeline »

What Health Insurance Reform Means for You »
Top 10 Ways Health Insurance Reform Works for You »
The Cost of Inaction »
Top 14 Provisions That Take Effect Immediately »
Immediate Investments on the Road to Reform »
Key Provisions:
Public Health Insurance Option »
The Health Insurance Marketplace »
Shared Responsibility »
Guaranteed Benefits »
Making Coverage Affordable »
Consumer Protections and Insurance Market Reforms »
Employers and Health Reform »
Strengthening the Nation's Health Workforce »
Lowering Health Care Costs »
Prevention and Wellness »
Delivery System Reforms »
Preventing Waste, Fraud and Abuse »
Strengthening Medicare »
Improving Medicare Part D Drug Program »
Maintaining and Improving Medicaid »
Medicare Advantage »
Debating Reforms: By the Numbers »
Paying for Reform »
Summary of Revenue Provisions »
Joint Committee on Taxation: Estimated Revenue Effects »
Health Care Surcharge and Households »
Health Care Surcharge and Small Businesses »
Women Have the Most to Gain »
Small Businesses »
Middle-Class Families »
A Guide for Seniors »
Young Americans »
Rural Communities »
Health Care Disparities »
Indian Health »
HR 3962 House Leadership Comparison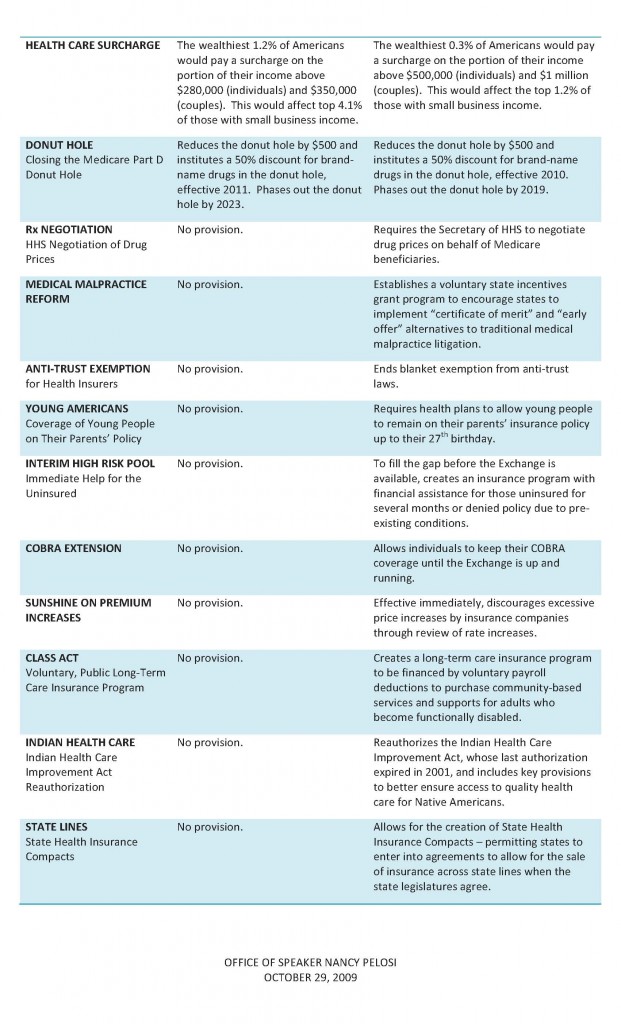 The House also introduced separately a Medicare bill, HR 3961:
http://docs.house.gov/rules/health/111_sgr1.pdf
The House Majority Leader web page has all the above resources and more.

http://www.majorityleader.gov/members/health_care.cfm