Check this page for updates on how to improve the new law, particularly regarding progress and critiques about coverage for abortion and contraceptives, single payer systems/cost control, and access for immigrants.

Reproductive Rights – Abortion Coverage
Executive Order Limiting Federal Funds for Abortion, March 24, 2010
The Executive Order limits the use of federal funds to pay for abortions through newly created health insurance exchanges and Community Health Centers, to cases of rape, incest, or a threat to the life of the mother.
http://www.huffingtonpost.com/ellen-r-shaffer/abortion-rights-at-risk_b_652922.html
Ellen Shaffer and Keely Monroe in Huffington Post, July 20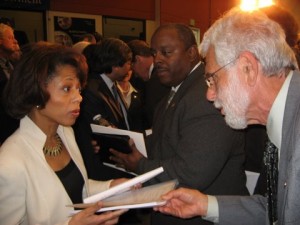 The Department of Health and Human Services' recent announcement would create a new sphere of abortion restrictions, undermining women's reproductive autonomy. It states that abortion coverage may only be obtained in the new high risk pool plans in cases of rape or incest, or where the life of the woman would be endangered.This wording mirrors the restrictions articulated in the Hyde Amendments, which currently apply to particular federal programs by virtue of their inclusion in certain appropriations bills. Anti-choice activist groups have demanded the new regulations. Because no law specifically addresses PCIPs and abortion coverage, the HHS statement would create new restrictions on abortion not already mandated by federal law, and elevate its status as a policy.